It would take approximately 34,506,455 years to play through every single iPhone game on the App Store. 
Well.. that number might be fairly inexact, but such is the wealth of titles on the app portal, combined with the depth of some of those on offer, you could easily play happily on your phone for years without getting bored.
The App Store is crammed with gaming goodies to keep thumbs busy, but not all iPhone games are born equal – which is why we've done the difficult job of playing through as many games as humanly possible in order to tell you which are best.
A bit of advice: make sure you think about what kind of game you want, and appreciate that some of them are more 'session' titles and some are those that you'd like to pull out and play in an odd five minutes.
That's important as we're big advocates of people paying for games on the app portal – they help offset some of the free titles that are funded by in-app purchases.
So if you're going to pay £5 / $5 for a game, make sure you've got a daily commute or enough downtime to give it your attention. The beauty of being able to play an immersive game on the move – something that would have been console quality a few years ago – should never be under-appreciated.
Also think about a controller for some titles – while many games don't support an external device, those that do are often brilliant to play without needing to resort to a touchscreen for interaction.
And just to contradict ourselves: free games with in-app purchases are fine, and often give you a great experience without needing to pay up. However, when you get really good at them you'll find that you're constantly told when to stop, in order to regenerate something or get to the next level.
However, if you've decided that you love RPG, fighting and strategy games, and like both options that you can dip into and play for hours, we're here to help. After many trials and tribulations, we arrived at the list you're about to dive into: the best games you can enjoy on your iPhone today.
New: Max & the Magic Marker – Remastered ($1.99/£1.99/AU$2.99)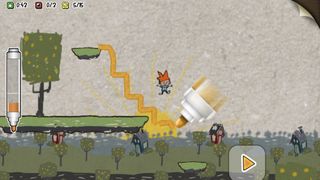 Max & the Magic Marker – Remastered is a spruced-up take on a much-loved platform puzzler that first appeared on iPhone way back in 2010. Despite its age, the game still feels fresh today, offering a breezily fun and entertaining mix of leaping about platforms, collecting objects, and being a massive cheat by way of the titular marker.
Actually, that's not entirely fair on Max – it's not like he can scribble a cheat code and skip to the end. But he can fashion shields to protect himself, slabs to drop on bounding monsters, and ad-hoc stairs to clamber up.
Neatly, you can pause the game while working on your temporary artistic masterpieces – and that's just as well, because to get three stars at level's end, you must beat a timer, along with collecting all the floating bling.
Watch our overview of the iPhone X below.